10 Dicembre 2016
Swimming Poll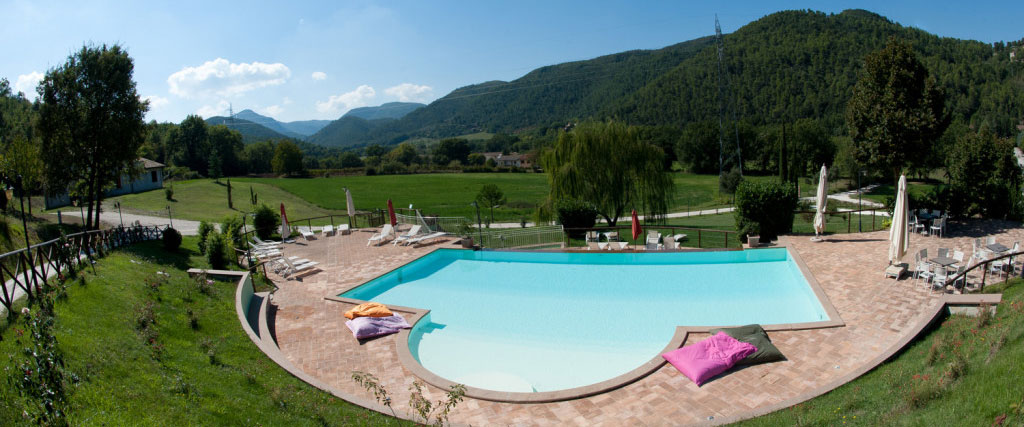 The two restaurant halls and the country hotel rooms represent the central core of Valle Rosa reception centre and are enhanced and complemented by a large green park and by a real gem for relax and recreation: the beautiful salt water swimming pool.
The saltwater swimming pool works thanks to the electrolysis process, which separates the salt in the sodium and the chlorine, which finding in water allow the formation of sodium hypochlorite: this natural disinfectant performs its oxidizing function and sanitizing before turning again into salt. This system ensures healthier water that allows the pool guests to avoid irritation to the eyes and mucous membranes as well as the dryness of the skin and the annoying smell and flavour of chlorine. The lower number of chemicals and more natural disinfection will increase the sense of well-being of the pool allowing more natural and satisfying bathing experience. The salinity of the water is equal to that of a tear and gives a pleasant feeling of comfort. The maximum height of the tank bottom of the pool is 140 cm.
The pool is surrounded by a large solarium equipped with plenty of sun loungers and umbrellas that will be waiting for a well-deserved moment of relax. Your gaze is lost in the green sea of the Umbrian Apennines and in the evening, thanks to the unique multi-colour LED; the pool water will surprise you with new hues and shades of soothing and pleasing colours.
During the day, in addition to the crystal blue pool, it's green the predominant colour, the colour of the "green heart of Italy". The darker green of the Apennine woods and the light green of the beautiful lawn and garden surrounding the pool. The large lawn allows children to play freely under the watchful eyes of their parents who are relaxing by the pool.